Thursday 30 April
Supporting the community through the Coronavirus lockdown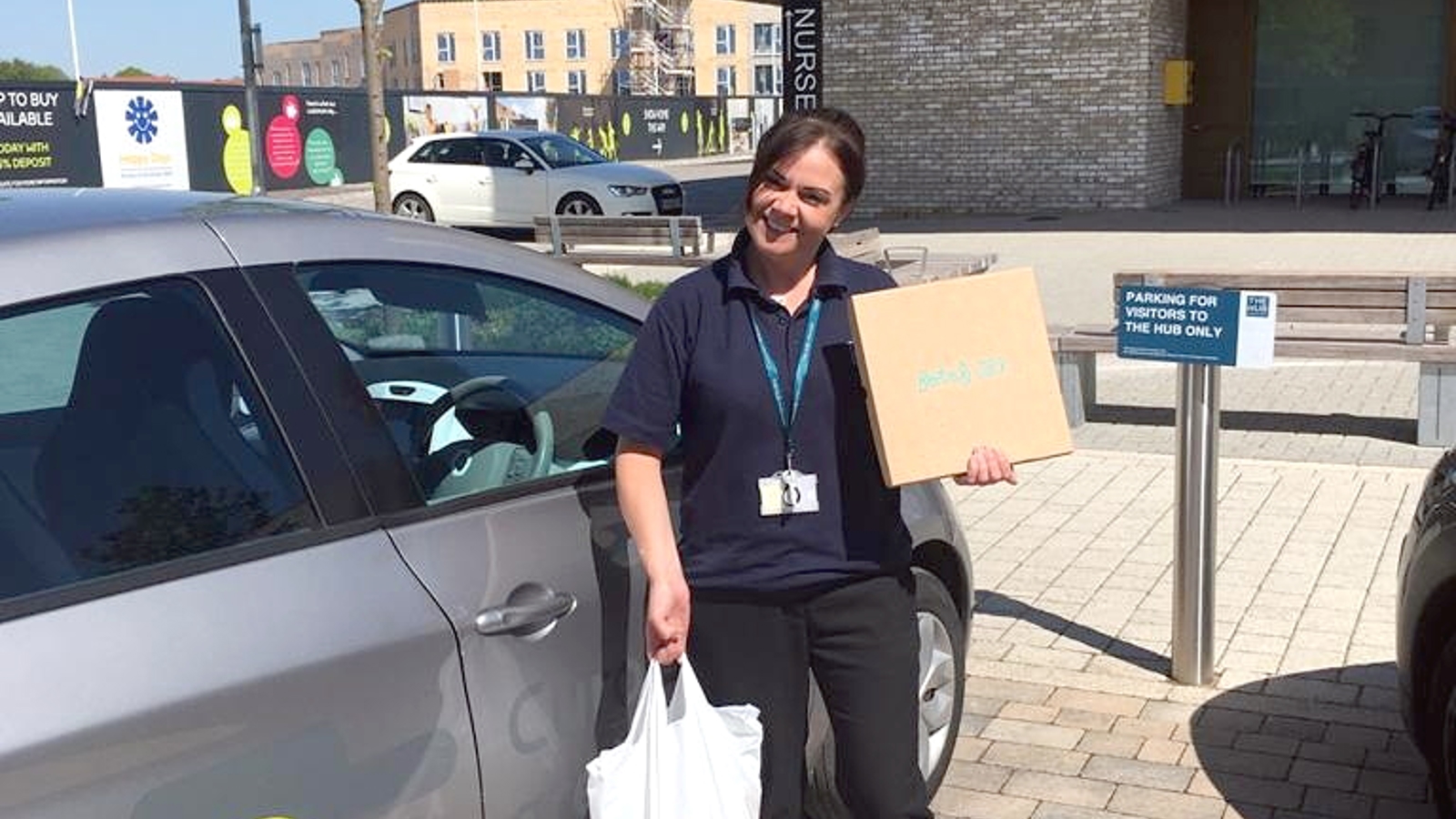 Since the start of the Coronavirus lockdown, The Hub at Mulberry Park has had to close its doors to protect public health. But while classes and meetings have been temporarily suspended, the Hub's team have quickly adapted to the new 'normal' and found other ways to support the communities of Mulberry Park, Foxhill and the wider Combe Down.
(Image above: Event Coordinator Gemma delivering hot food and groceries)
Exactly one week after Prime Minister Boris Johnson announced the national lockdown, The Hub was launching its local delivery service of hot food and groceries.
Hub Manager, Lizzie Irvine, says: "We wanted to continue to support local residents and decided to bring our delicious Café products to their doorstep through a no-contact delivery service.
"We also knew that some of our community members may not be able to go out during this period and could be struggling to secure a delivery slot with the big supermarkets. That's how we came up with the idea of adding a range of basic groceries, including fruit and vegetables, to our delivery service."
To keep everyone safe, The Hub's team are offering this service while strictly observing social distancing guidelines. Payments can only be made by card, over the telephone, and parcels are placed outside customers' front doors.
There are two teams operating at The Hub on alternative days, to enable physical distancing and ensure deliveries can continue for as long as possible during lockdown.
The service has grown from three deliveries on the first day to more than 20 now, consisting of a mix of hot Café dishes and groceries.
(Image above: Facilities Manager Richard is also part of the delivery team during the Coronavirus lockdown.) 
Lizzie says: "The service has been very well received and is appreciated by the community. We've served a number of elderly members of the community who buy hot meals and groceries; one gentleman in Foxhill has been ordering something every day. Our most popular items are the hot special of the day, toasties and the groceries – particularly milk, butter, bread and eggs."
Among customers there are also young families who can't leave their homes, people self-isolating and key workers ordering lunch specials so they don't have to cook after long shifts. 
In addition, The Hub is now producing and delivering close to 40 hot meals every day to Curo residents in supported housing schemes in Bath.
The Hub is also supporting 'Scrubs for the NHS', providing a drop-off point for scrubs produced by members of the community for NHS workers. Volunteers help sort the scrubs in one of the rooms at The Hub, separate from any other people in the building.
Hub Manager Lizzie says they intend to keep these services going for as long as possible during the coronavirus crisis and are always looking for new and safe ways to support the community.
The Hub's Café and groceries delivery service is available for local residents in Foxhill, Mulberry Park and Combe Down Monday to Friday, from 9am to 3pm. To place an order call 01225 436 869 - £5 minimum order, card payments only.