Tuesday 24 August
Celebrate Combe Down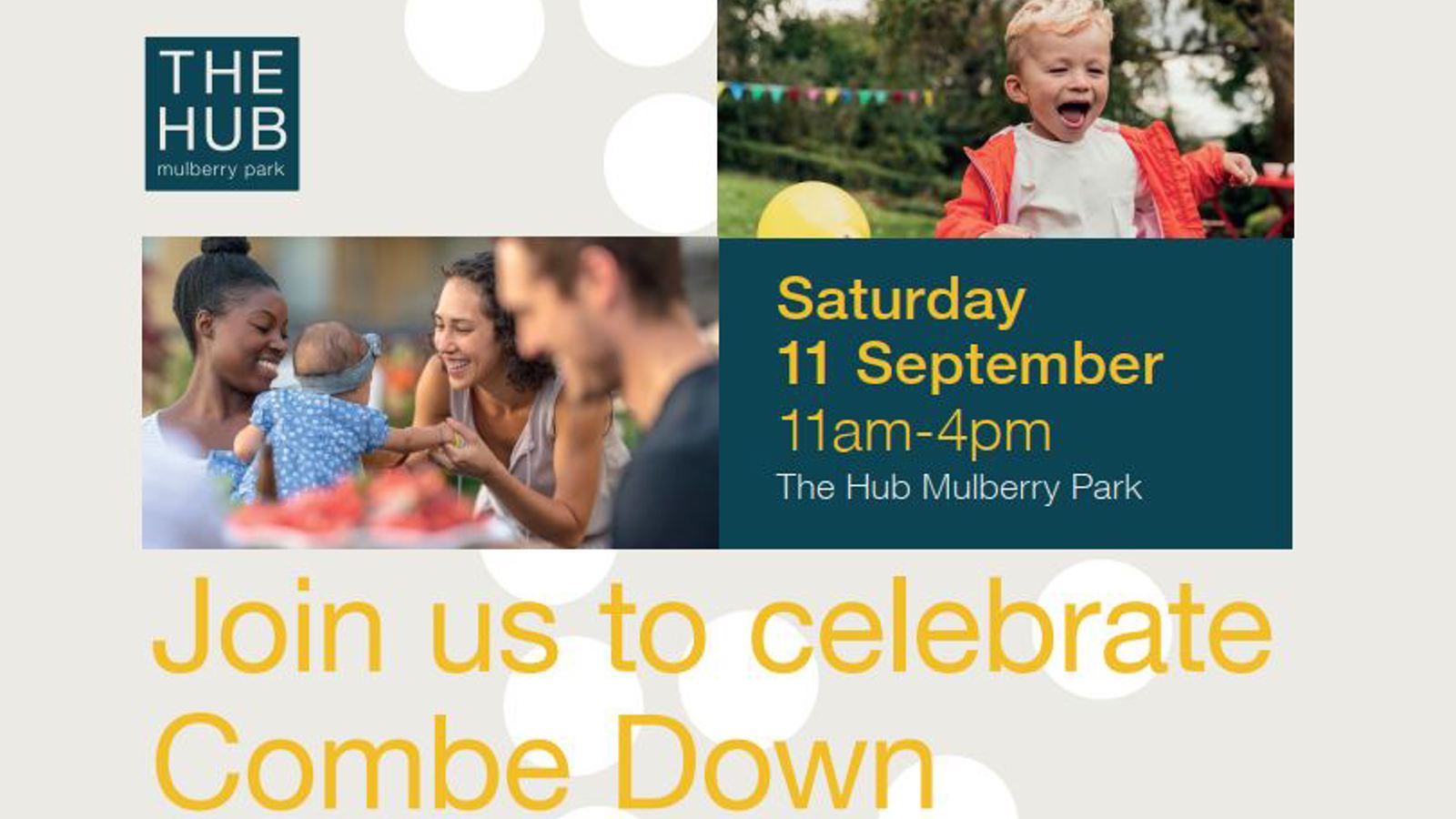 Join us for a fun-filled day at The Hub on Saturday 11 September, from 11am until 4pm, to celebrate our fantastic community. We're working with residents and businesses to bring you lots of FREE, exciting activities.
There's something for everyone to enjoy. Here are the free activities you can get involved in on the day:
Bouncy castles
Taster sessions (places must be booked in advance, read on for further details)
Local arts and crafts stalls
Information stands – Curo, Citizens Advice Bureau*, Combe Down Heritage Society, Crisp Packet Project, Combe Down Lifelong Learning/Library Group, Nest & Vineyard Bath, Bath Sea Cadets.
Donkey Rides (strict weight limit applies**)
Ask a Midwife – Q&A session
Mulberry Park Medical School - interactive session for kids (places must be booked in advance, read on for further details)
Meet a Police Dog
Combe Down Rugby Club Minis on 4G pitch
Youth Connect South West Youth Bus – mixing decks, circus skills
Activities for under 5s at Happy Days Nursery – baby massage (places must be booked in advance, read on for further details) and arts and crafts
Litter picking hour from 3pm – attended and supported by The Right Worshipful The Mayor of Bath, Councillor June Player
There will also be lots of food and drink available to buy – we're firing up our outdoor barbeque and the Café at The Hub will be open exclusively for pizzas, drinks, cakes and snacks.
*Advice will not be able to be provided on the day however signposting will be given. 
** Strict weight restrictions apply for the wellbeing of the donkeys. Children over seven stone or 12 years of age will not be able to ride. We reserve the right to refuse a rider. It is our policy not to use weighing scales, as this can cause embarrassment to a child. 
Baby Massage, Taster Sessions & Mulberry Park Medical School
All taster sessions and the Mulberry Park Medical School must be booked in advance. Please email enquiries@mphub.co.uk to book a place or call 01225 436869.
Places are limited and priority will be given to residents from Foxhill, Mulberry Park and Combe Down for these sessions but everyone is welcome to the main event.
Baby Massage
Run by Happy Days Nursery, this will be a 30-minute massage session for non-mobile babies between 6 weeks old and up to a year old. Sessions are at 11.30am and at 1pm and places must be booked in advance through The Hub.   
MP Medical School
Run by Dr Steph, Mulberry Park Medical School will teach kids who are fascinated about their own bodies. The workshop is for children aged 5-9 years old and we will talk about the roles of different organs, how they work together and why each organ is important.
We will make models of the heart, lungs and skeleton as well as making our own stethoscopes. We will talk about all the important components that make up blood and we'll make blood slime to solidify our learning! Parents/carers must accompany their children for the session. 
There are two workshops, one at 11am and another at 1pm and they will last 90 minutes. Places must be booked through The Hub.
Taster Sessions (30 minutes each)
There are lots of taster sessions offered free of charge by our regular hirers at The Hub. If you'd like to take part in any of these, you must book in advance by contacting The Hub. 
11am
The Singing Tree
A taster session run by Noeline for 0-5-year olds. 
Give your child the experience of a whole world of music. No musical ability required, just a desire to have lots of fun. Places are restricted to one adult and a maximum of two under 5s per booking. Face coverings are encouraged until seated in the room.
11:45am
Beats Dance Bath
Come and join Beats Dance for a beginner-level adult ballet class. We will do a short class at the barre, exploring the basic steps and postures. No previous experience is necessary, and you can wear whatever you feel comfortable in but make sure you have socks. The session will be relaxed and fun with no pressure whatsoever so please do come along if you think you might like it.
12:30pm
Beats Dance Bath
Beats Dance are running a fun-filled 30-minute TikTok session. You don't need to have a TikTok account or even know what it is! We will have a short warm up and learn a couple of TikTok dance routines. Suitable for age 11+ 
1:15pm
Yoga Bear - Family yoga 
Come have some fun and try yoga, children over the age of 5 welcome or simply come on your own, have a stretch, try some moves and smile. No advance booking necessary – just turn up on day. 
2pm
Yoga Bear - Beginners trial yoga session 
Yoga is a fantastic practice for mind and body, great for releasing tension and stress that builds up from our daily lives. It also helps to clear and rest our minds, relieving feelings of being overwhelmed, depression & anxiety, bringing us back to ourselves and making us feel grounded and re-energised.
Come and try out this free taster session for yourself and ask us any questions after the class. Anyone signing up for classes on the day will receive 10% discount.
3pm
Twinkles
Join us for story time, singing and some fun play and craft.
YS Enquiry Science Workshop
TBC
​
There will be lots of hand sanitiser available and we encourage you to wear a face covering when inside The Hub. 
Activities may be subject to last minute changes and the whole event is subject to Covid-19 restrictions at the time.